Joe's Leadership Philosophy
"Mavericks can be born or made but there is no greater strategy than knowing you don't need rules, you need one standard. Take responsibility, be accountable. Treat others with dignity and respect. Accept the consequences of your actions."

- Joe Moglia
I'm the former CEO & Chairman of TD Ameritrade. I am the Chairman of Capital Wealth Advisors and Fundamental Global LLC. I am the former head football coach at Coastal Carolina University and Executive Director for Football & the Executive Advisor to the president.
I'm an investor, thought leader, and with more than four decades running trading floors, an on-line investment platform, board rooms, and locker rooms I write and speak about leadership, finance & investing, fintech, and major market trends.
I'm the only guy that has written books on both football and investing. I'm a regular media guest offering insights on the markets, leadership, and college sports. I've rolled dice since I was a poor kid on the streets of Manhattan, and I've played poker with Warren Buffett. Don't ask me who came out ahead.
I can advise anyone on how to win, leadership, investing, football, and great music.
Lead with Your Head, Listen with Your Heart.
The 4 Pillars of Courageous Leadership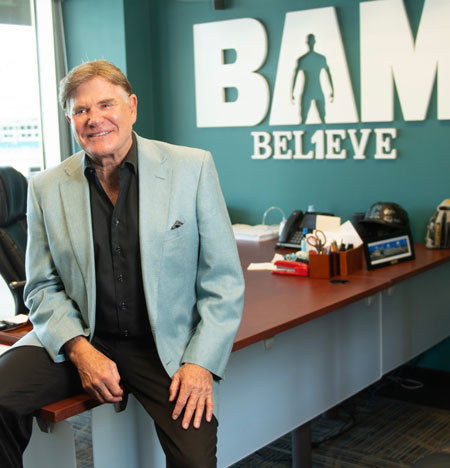 Joe's quest has been adventurous, sometimes dangerous, and always true to his love of a challenge. The kind of wins and losses he has ventured into have more than changed the bottom line; his leadership has changed many thousands of lives. Joe's journey was challenging-- from his young life in one of New York's tougher neighborhoods, seeking a secure job to take care of his family, leaving his beloved college football coaching job- to discover how he would rise in the world of competitive finance, and against the odds, enter a "changed" world to coach and build a winning college football team again.
As a young coach in 1971, 4 lines he jotted in a notebook, have prevailed. They have allowed him to achieve his dreams, the dreams of clients, colleagues, players, students, family, and friends. Joe's leadership principles provide anyone willing to practice them, the insights that determine how you lead and live.
"This is not something I think works. I know it works."
Having honed my leadership philosophy through my pursuits as a business leader and football coach, my leadership philosophy, known as BAM, has become a legacy cornerstone of the CCU football program.
These Leadership Principles have grown in significance and reverberate into every facet of his life. They serve as his mantra, signature, mirror, and guide through all the challenges, decisions, and opportunities he has encountered. These four principles—a total of twenty-four words are simple and straightforward. If you live them in every aspect of your life, you will become more than a leader, you will live with integrity. You will change lives.
To become a true leader you must:
Stand on your own two feet
Take responsibility for your actions
Treat everyone with dignity and respect
Recognize you will live with the consequences of your actions